24 November – 10 December 2019
Aboard Silver Cloud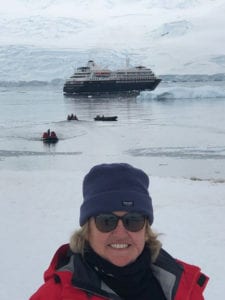 It was an absolute privilege to be invited to join this magnificent cruise departing Buenos Aires 24 November.
We joined our ship and searched to see what Silver Cloud had to offer us during our journey.
We were not disappointed.  Cabins were quite large for a newly converted expedition ship with a walk in shower, sitting area and balcony.  Ample storage for two girls with winter gear in tow.
Silversea provided us with an expedition jacket and we had the option to hire gum boots or bring our own.
Silver Cloud offered many choices of dining, several bars, library, main theatre, observation lounge, pool, spa, entertainment, lectures and every evening we were given a recap and insight into what the following day would bring.
With only 240 guests onboard, you got the feeling that everybody knew each other quite quickly.  There were 24 highly experienced expedition leaders which is quite rare to have that many travel with you.  Among the Expedition leaders there were historians, biologists, zoologists, geologists, naturalists and anthropologists.   A new addition to the Silversea line up was our Cruise Director Brian.  Having starred in the Broadway production of Cats he had the unenviable task of entertaining us all while we navigated the Drake Passage. We played trivia, name that tune, there was an endless array of musical numbers, singalongs, just to name a few. He also doubled as the ship's disembarkation organiser and was quite entertaining on the mic.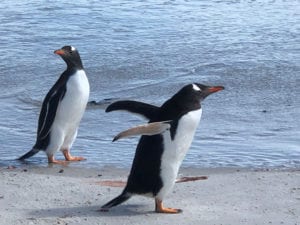 We set sail down the coast of Argentina with the wind at our backs and seas nice and calm.  Our first stop was Puerto Madryn. One of our expedition leaders hailed from this area so was able to give us an insight into one of the best whale watching areas in the Patagonia region.  We had the choice of five different shore excursions.  We chose to snorkel with the seals.  Once we had squeezed ourselves into our dry suits, we had a 20 minute boat ride round to an area where we could jump into the freezing South American waters that were the playground of sea lions and crab eater seals.
Commerson's dolphins, weddell seals, southern right whales and orcas are among the many marine mammals who call these waters home. A delicious packed lunch of empanadas, chicken salad and local cherries were waiting for us on our return.
Mother nature seemed to be smiling upon us as we sailed through to the Falkland Islands. The weather was amazing.  It was so good we were able to visit Saunders Island, an island where in the 69 visits to Antarctica, the head of Silversea Expeditions had only visited once before.  Saunders Island only whetted our appetite for more.  With 4 different species of penguins – Magellanic, Rock Hopper, Gentoo and King penguins, there was much to see.  And for the bird lovers there were the Black Brow Albatross, Imperial Cormorants and plenty of Skua's.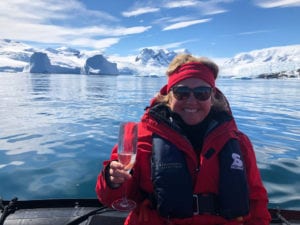 We ventured on to West Point Island where after visiting the Rock Hoppers and Black Brow Albatross nesting grounds, we were treated to an afternoon tea that the CWA would have been very proud of.  The array of cakes, slices and scones which were all baked by the island owner's wife, was amazing and fresh tea (not a tea bag in sight) was served in fine bone china cups with matching saucers.
Our next stop was the capital of the Falkland Islands, the town of Stanley.  There is a lot of memorabilia and remnants of the Falkland War here.  The town is tiny but offers great pub lunches and small cafes.  There is even a gin distillery. This would be our last stop before entering the Antarctic waters.
We visited Elephant Island and pulled into the aptly named Paradise Bay. The spectacular scenery was too hard to describe back home so a video call was made to truly show off the magnificent view. Clear deep blue waters reflecting the snow capped mountains and mighty glaciers making thunderous noises as the ice shifted.
This is the area where Shackleton's men stayed for 4 months waiting for help. Exploring Elephant Island and the many bays where we encountered Elephant Seals, Gentoo Penguins, Adelie penguins and waterfalls were a surprise and delight to all. So many of the staff had never visited the area.  The animals are so oblivious to humans and many of the penguins just came up to us and followed us in our designated walking tracks.  You could truly just sit and watch the penguins as they went about their business all day.  They were so entertaining.
The next few days were spent visiting Antarctica Mainland. There were many bays and inlets we visited that were amazing.  The ice formations and glaciers were magnificent. We visited an Argentinian research station that one of our expedition leaders had been stationed at who could give us an insight into the workings of a research station.
Because of the numbers of the guests on board and the restrictions of only 100 people allowed on Antarctica mainland at any one time, we were all able to go ashore in rotations twice every day.  Many of the other cruise ships that visit Antarctica may only have you going ashore every 2-3 days as their guest numbers are much larger.  You genuinely got value for money on our cruise.  You also had the opportunity to kayak in amongst the icebergs which gave you a different perspective of navigating through the icebergs.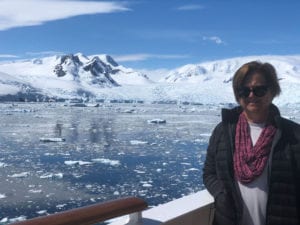 Our last port of call was Deception Island located in the South Shetland Islands. This island is the caldera of an active volcano and there are relics of an old whaling station here.  You can do a hike to the top of the rim where you can look out to the ocean on one side and see the calm waters of the bay on the other.
Heading back through the Drake Passage we encountered humpback whales who put on a farewell show for us. Antarctica is the most amazing destination I have ever been to. The vastness of the open space, the natural beauty and magnificence of the icebergs, the sound of ice melting and popping outside your balcony is indescribable, the sheer magnitude of the mountains and glaciers is something you will never forget.